Find Your Goal.
Find Your Y.
Kick It With Us
At the Y, kids can be who they are and become who they want to be. 
Our soccer programs promise no tryouts, no getting cut, and no bench warmers! Basic skills are developed through soccer games and activities. Players will practice dribbling, passing, trapping, shooting, and footwork skills. In addition, they'll learn the concepts of offense, defense, cooperation, and teamwork. We encourage fair play, positive competition, and family involvement.
Soccer
Soccer
Every child plays at least half of every game while making friends and learning new techniques. Games are played indoors at several of our Ys or school locations throughout the Summer, Spring, and Fall seasons. 
More Details
Futsal
Our Futsal Program helps build skills in soccer fundamentals. This indoor structure helps build kids confidence with learning foot skills, passing and game awareness.
More Details
Important Information
Participants are asked to bring their own soccer ball. Please make sure the child's name is on all items. The suggested size for U8 is Size 3. Optional/recommended equipment are cleats and shin guards. Many young players are not moving at such a rate that cleats will provide any more traction. Shin guards may be beneficial as players are still working on their coordination.  
Games are played 4v4 (no goalie)
Goals are 6' wide.
All teams play 4 timed quarters.

PreK: eight-minute quarters.
Kinder-Grade 2: ten-minute quarters.

Subbing happens as players need breaks. 
Teams are made up of 8-12 players. 
Field size 

PreK: 20X40
Kinder: 40X60
Grades 1-2: 55X70

The ball is put back into play by a throw-in.
Coaches may modify the game so players have the most fun.
Fundamentals of footwork, passing, receiving, throw-ins, watching the field, healthy habits of exercise, and good sportsmanship are highlighted.
We believe every child deserves a chance to participate in our programs. Through our Open Door program, financial assistance is available to both members and non-members. Open Door requests are processed on an ongoing basis.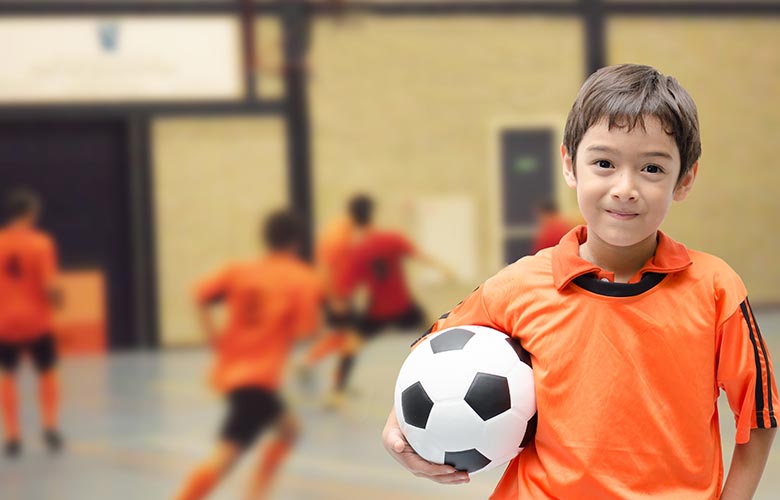 Y Soccer
The Y's soccer program for young kids is amazing! It nurtures their love for the sport and helps build important life skills.