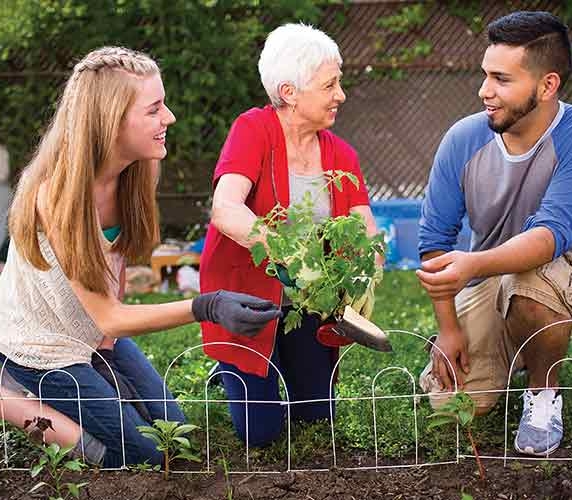 Helping
Your Neighbors
The Y is a volunteer-driven organization that provides services with the help of 3,500 volunteers. Like thousands of YMCAs worldwide, our association is overseen by volunteers who tirelessly serve on boards and committees. So much so that volunteers outnumber paid staff three-to-one in delivering programs and services.
Do you have a heart to serve?
Are you outward-focused?
Would you like to make a difference in your community?
Do you have a few hours a month that you could use to help positively impact people?
Your Y has opportunities for you to volunteer 
Summer Lunch Program
The fact is that thousands of kids go hungry when school is out for summer. If this upsets you, then this is the program for you. We have opportunities across the Portland Metro area and in Clark County, Washington. You can volunteer as much or as little as you want. The "Y" can use your help.
After-School Enrichment
Does the thought of young kids being alone after school make you cringe? Do you have a passion to be a part of developing these young minds into adults? Are you the person with a heart to mentor kids on the margins? Then this program is the one for you. You will help our "Y" staff as they use different techniques and age-appropriate curricula to shape our future leaders.
Coach/Mentor
Are you happy with the world today? Does it worry you that our children and young adults are immersed in it? Would you like to be the change you want to see in the world? Then this program is perfect for you. The "Y" uses sports as a tool to develop our youth. In the words of Dr. Gullick when he tasked James Naismith (Yes, the YMCA invented Basketball) with creating a program, he said, "Invent a game compelling enough to get the kids to come in off the streets so we can positively impact them and develop them into successful adults." You get the gist. We teach more than dribbling and shooting baskets.
Additional Volunteer Opportunities
Chaplain Services
Summer Lunch Program
Child Care Aide at various locations
Event Assistant
Facility Clean Up
Youth Sports Referee
Field trip chaperone with our Child Development Centers
YMCA Camp Collins
Annual Campaign support
YMCA Board of Trustees
And many more!
Where do I start?
Apply today to volunteer in the region of your choice! All YMCA volunteers must be COVID vaccinated and pass a background check before serving because we work closely with children and the public.
If you would like more information, please inquire at a YMCA location for currently available volunteer opportunities. 
Internships 
Our internship program is designed to allow students to gain experience and learn critical job skills first-hand. We believe an on-the-job experience will benefit the student, the community, and the YMCA.
Students interviewed and selected for an internship or service-learning project may be expected to accomplish projects or work alongside an employee to gain the most knowledge.
Managers will work with colleges and high schools if the program involves course credit. Please inquire at a YMCA location for currently available internship opportunities.