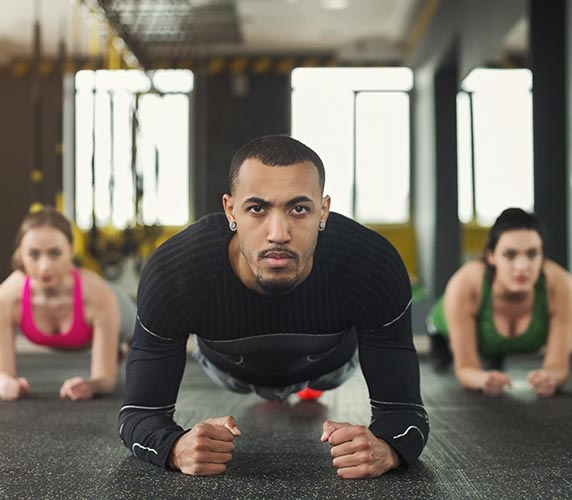 GET RESULTS. HAVE FUN.
Whether you want to strengthen up, lose weight or eat better, these camps are for you. Exercisers of all types and fitness levels will have fun and meet their goals. These fitness camps will help to strengthen and build muscle endurance. 
Clark County Family YMCA
Fitness Camps

Get motivated with your workout routine! These small group fitness camps offer participants the enthusiasm and encouragement of a team environment while still getting personalized attention and fitness routines tailored to their specific goals under the direction of our personal training staff. Camps run throughout the year in 4, 5, or 6 week sessions. Each camp gives you a one hour session per week with your small group and personal trainer.Do you need motivation? Join a fitness camp team—led by one of our certified personal trainers—to push yourself and your team towards your goals.

Upcoming September Fitness Camps

 

Wednesday Night Circuit | September 11

Challenge yourself with a workout that will leave you sweating, energized, and empowered! This circuit style workout combines cardio-respiratory, strength, and core exercises for a total body experience!  Led by Bonnie on Wednesday, 530-630 pm, starts September 11

 

Total Body Conditioning | September 12

Learn new ways to challenge muscle groups and gain endurance in this full body workout. Starting from the inside out with your core as a base, build strength, mobility, and confidence with equipment in this fitness camp. Led by Bonnie on Thursday, 630-730 pm, starts September 12

 

Functional Mobility and Core | September 14

Each week you will have a new workout that help will build your strength, endurance, flexibility and balance. Work towards better alignment with this total body strengthening class. Led by Bryce on Saturday, 730-830 am, starts September 14

 

Better Strength Through Boxing | September 23 

Pair boxing and self- defense moves with strength and core exercises in this high intensity circuit. Build on agility and mobility moves while challenging your cardio-respiratory system. Led by Bonnie on Monday, 7-8 pm, starts September 23
Sherwood Regional Family YMCA
Strength Training For Women

Progressive approach to strength building and definition through machine, free weights and own body weight mediums. 

Traditional & Interval Style Boot Camp

Cardio and strength conditioning through a variety of free weights, machines and traditional boot camp drills. Sessions utilize both indoor and outdoors—weather dependent. Members should be free of physical limitations, which could prevent running/ walking fast, jumping and lunging. Four to six participants per group. 

TRX Suspension and Ropes

Functional exercises that build strength, flexibility, core stability and endurance. TRX suspension training harnesses your own bodyweight to create resistance as you workout. TRX allows you to adjust the degree of difficulty regardless of your fitness level, age or goals. 
Personal Training
Looking for some focused help on achieving your fitness goals? Sign up for our personal training at one of our three health and wellness locations to set goals and learn how to reach them.